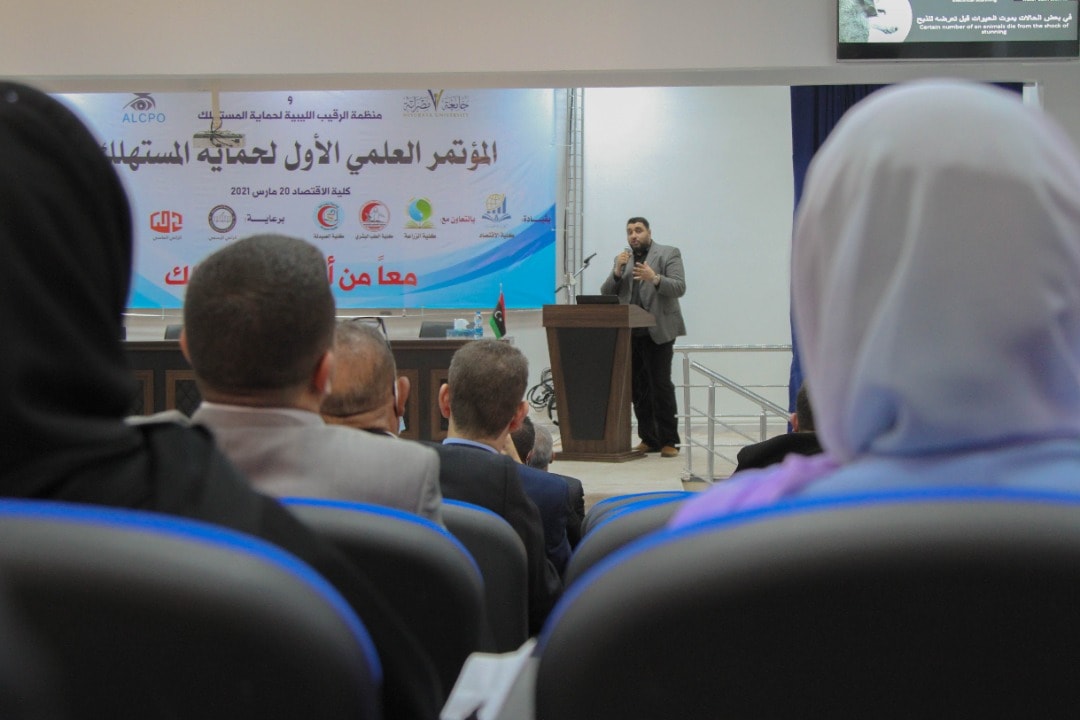 Misurata| March 20, 2021
Misurata University and Arrageeb Libyan Consumer Protection Organization, for the purpose of stepping up their efforts to ensure the safety of citizens and fulfill their community responsibility towards their nation, to activate the awareness-raising role concerning the harm and risks of some imported goods that citizens consume, and coinciding with World Consumer Rights Day, which was approved by the United Nations in 1985 and marks 15th March every year, organized the First Consumer Protection Conference, which was attended by a number of figures interested in this event from several Libyan universities and institutions.
President of Misurata University, Prof. Faraj Ali Abushaala, attended the opening ceremony and gave a speech expressing his appreciation for the special attention and importance that Misurata University and Arrageeb Libyan Organization give to such events that raise issues ensuring the safety of citizens when consuming imported goods, as well as thanking all attendees for their attendance that enrich the discussions in the conference.
Misurata University representatives who attended the conference were the Vice-President for Academic Affairs, Dr. Mohamed Mohamed Sawalem; Dean of the Faculty of Economics, Dr. Ismail al-Shahouby; Chairman of the Conference, Abdullah al-Sheikh; a number of faculty deans and faculty members at the university colleges; and the Head of University Staff Association along with a number of staff members. A number of Misurata municipal council members and officials of institutions sponsoring the event, including delegates and media personnel, were present at the event.
During the meetings of the Conference, a number of research papers regarding the theme of the conference were presented and discussed, including: Concept and Evolution of Regional Experiences in Consumer Protection, Consumer Protection Against Fake Goods in the Light of Libyan Legislation, Impact of Product Packaging on Consumers' Satisfaction, Measuring Citizens' Awareness in Purchasing Goods in the City of Yafran, Consumer Rights and Responsibilities from the Perspective of Students of the Faculty of Economics of Sabrata and Zawia Universities, and many other peer-reviewed papers that help in appropriately defining and understanding the theme of the event.
At the end of the conference, all researchers and chairpersons of the committees organizing the event were honored. The event ended at 2:00 p.m.